My god, this place has gathered a lot of dust. I've fallen into the (bad) habit of posting snippety updates on facebook or twitter instead of taking the time to write out blogs. Dear self: You can post those same updates here. There's nothing that says a blog entry has to be lengthy. Duh.
So, some snippety stuff for y'all:
I have a new book coming out in about two months!! For those of you who come to this blog via the front page of my website, you've no doubt seen the OH MY GOD AWESOME COVER for My Life as a White Trash Zombie which comes out July 5th. But for those of you who have yet to see it.. *cue chorus of angels*: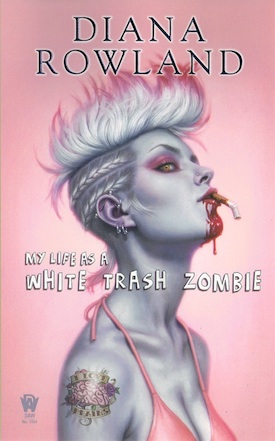 I am so in love with this cover it HURTS! The artist is the amazingly talented (and super nice guy) Dan Dos Santos. The even cooler thing is that he entered this art in the Spectrum contest earlier this year, and this cover took silver!!! I'm SO stoked for Dan because he deserves all sorts of praise and adulation. He's also part of a group blog of incredible artists where they talk about process and the industry and talent and other really neat stuff, which is a fascinating read even if you're like me and can barely draw stick figures.
Click here for the back cover blurb. Oh, and you can read an excerpt of the aforementioned book also!
**
The Kid turned seven last month. Holy crapoly, she's growing up so fast! *sniff*
**
In less than two weeks I'll be flying to New Mexico, then driving up to Taos Ski Valley to participate in the Rio Hondo writer's workshop. This is an invitation-only workshop hosted by Walter Jon Williams, and is usually populated by OMFG talented and award-winning writers such as Maureen McHugh, Karen Joy Fowler, James Patrick Kelly, Daniel Abrahm, Carrie Vaughn and others. I was floored (and thrilled) when I was invited last year, and found the workshop to be unspeakably valuable, rewarding and informative. I know my writing improved dramatically as a result of the feedback and shard insights I gained while there. Needless to say, when I received an invitation for the second year in a row, I couldn't respond with a YES fast enough!
Besides, last year it SNOWED while we were up there! (The lodge where we stay is at about 10,000 feet elevation. Last year I was definitely gasping for breath for the first few days..LOL)
**
The next thing I have scheduled after that is San Diego Comic Con in late July—my third year in a row of attending this convention. I grew up in fandom and have been to more SF conventions than I can count, but SDCC is nothing like any of those. I'm completely in love with the crazy intensity and energy, and this is probably going to be a definite annual event for me.
**
I attended the Romantic Times Booklover's convention back in early April and had an absolute BLAST meeting so many readers and other authors. Since it was held in Los Angeles I also had the chance to hang out with Roman White, who's become one of my dearest friends. He was shooting a video for Kristin Chenoweth while I was out there, and Roman invited me to come hang out at the shoot. SO COOL!! I got to meet Kristin who is just an amazing and kind person with an insane amount of energy, and holy crap that woman has talent!
Then, after the shoot, Roman invited me along to dinner with some Sony execs, and we ended up at this restaurant in Beverly Hills. Y'all, this was the most amazing food I've ever tasted in MY LIFE. It's all about the science of gastronomy and new cooking methods and the perfect combinations of tastes and textures. I had a drink made with dry ice. I had brussels sprouts that were so incredible and tasty that I wanted seconds (and I fucking HATE brussel sprouts!) I had a cheese and jelly combination that nearly made me weep with joy. It was so incredible that I almost want to never go back to that restaurant because I don't want to risk ruining the memory of how perfect that meal was. (Though I'm sure I will!)
Plus, the Sony folks paid, which made it even better..LOL Speaking of the Sony people, I sat next to an incredibly interesting and lovely woman (and I'm blanking on her name! DAMN DAMN DAMN!!! I think it was Laura…??) who worked in the Masterworks division (possibly the head of it??) Anyway, she's a big science fiction & fantasy fan, and we had a really fun time talking about music and books and other neat stuff. The whole evening was an absolute delight—a perfect combination of awesome food and amazing company, and I am eternally grateful to Roman for allowing me to tag along and mooch.
**
I'm working hard on the next Kara Gillian book, Sins of the Demon! I know there were a lot of readers who were like, "Akk! OMG! How can you leave us hanging like this?" at the end of Secrets of the Demon, but I think people will be pleased with what's revealed in this next one! This one is scheduled to come out Jan 3, 2012, and is already available for preorder!
Otherwise, my life stays pretty much the same: I'm writing, I'm doing family stuff, I'm continuing my ongoing struggle to shed a few extra pounds, I go to the gym… well, I go more often than I blog!
And that's about it, I 'spose!