Yes, finally, the panel of unreliable judges has come through with the winners. Yay!
By the way…Holy Crap, this was hard to judge! From the simplest entries to the most complex, every single one was fantastic and delightful, and I'm incredibly grateful to all of you for taking the time to create and post a pic. Looking through all the entries was a rare thrill. Lots of pictures with pets, religious artifacts, not-so-religious artifacts, kids, smiles, the whole nine yards.
But, as I said, it was a bitch to judge, and I am doubly grateful that I was able to dump the hard part onto others. Honestly, I don't think I could have picked any winners on my own. I loved them all!
Now, as you might recall, the prizes were:
An autographed copy of Mind Games by Carolyn Crane
An autographed copy of Accidentally Demonic by Dakota Cassidy
An autographed copy of Tempest Rising by Nicole Peeler
TEN autographed copies of Mark of the Demon or Blood of the Demon (winners' choice)
A $10 Barnes & Noble gift card contributed by Michele Bardsley
As well as TWO GRAND PRIZES of New Orleans-y gift baskets with all sorts of cool New Orleans goodies, both books, along with a $50 Barnes & Noble gift card each.
And, a couple of prizes have been added to the pool! Jeanne Stein has very kindly offered to donate a signed copy of The Becoming, along with book cover magnets and other goodies.
AND another $10 B&N card was added by one of the unreliable judges, simply because it came down to a decision between two entries, and it was most easily resolved by adding one more prize.
All of the above prizes (except the grand prizes) will be distributed to the following winners:
Best Picture with a Cat–Hilda
Best Picture with a Dog–Heather
Best use of Accoutrements–Ambika
Best use of Statuary–Rene
Most Artistic-Amy
Best Drawing–Bianca F
Best Summoning Circle (ebook version)–Cheryl H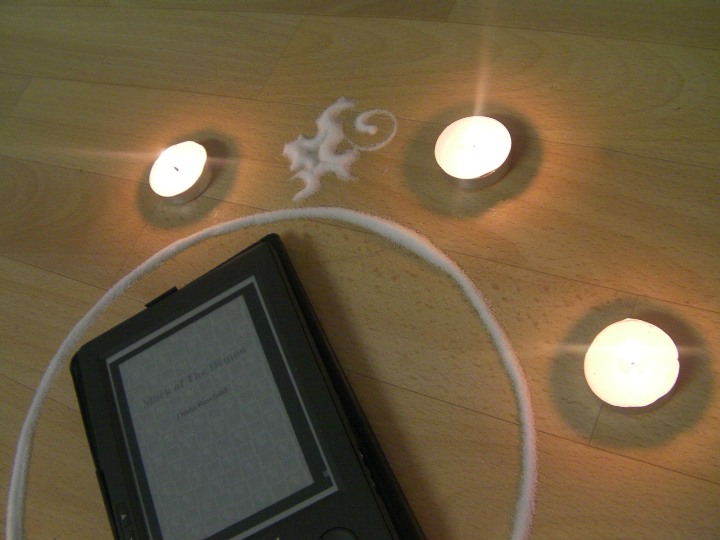 Best Summoning Circle (print version)–Melissa T
Best Incorporation of Alcohol–Jani
Best Use of Religious Icons/Texts–Nicole L (I especially liked the inclusion of a coffee-mug as a religious artifact. I completely approve!)
Best Collage–Robin K
Best Foreign Entry–Julia The Brazilian
Most Impressive Collection of Cool and Bizarre Stuff–Jon Hansen
Best LOLcat version–Julie Wood
Best Montage (which, unfortunately has to be a link, because there was just no way I could get it all over here!)–Pearl
http://pearl72.blogspot.com/2010/03/day-in-life-of-pearl.html
And, The Cutest–Van P
And now for the two Grand Prize Winners!! These were unanimous decisions from the unreliable judges:
Grand Prize #1–Crissi B (Who, by the way, does NOT have a twin!)
And, Grand Prize #2–Tynga (I LOVED this one!!)
Thanks again to everyone who participated!! Winners, I'll be emailing you soon (hopefully tomorrow) with details and information about your prizes! (This is assuming you left a valid email address when you posted your comment. If not, I'll blog and tell you to email me.

)